Dog breeding
of Dalmatian breed
Our breeding is located on the green hills of Brianza. Near Milan.
The CALIFORNIA CENTOUNO breeding was born from the passion for the Dalmatian breed.
It is a "small" family run farm recognized by both the ENCI and the FCI.
Our specimens have excellent genealogy, researched in the best European and Russian bloodlines.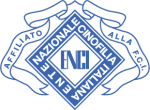 We strictly schedule only one or two litters a year with selected sires
and the puppies are born and raised strictly at home in close contact with our pack,
where they are stimulated and socialized from birth.
Are you the right owner for a Dalmatian?
Here is some information about the Dalmatian breed that can help you decide